GibChingu Hardware
Table of Contents
GibChingu is housed in an Evo X500 case, which is probably the nicest looking case ever for an Amiga

.
Original Hardware
The naked truth...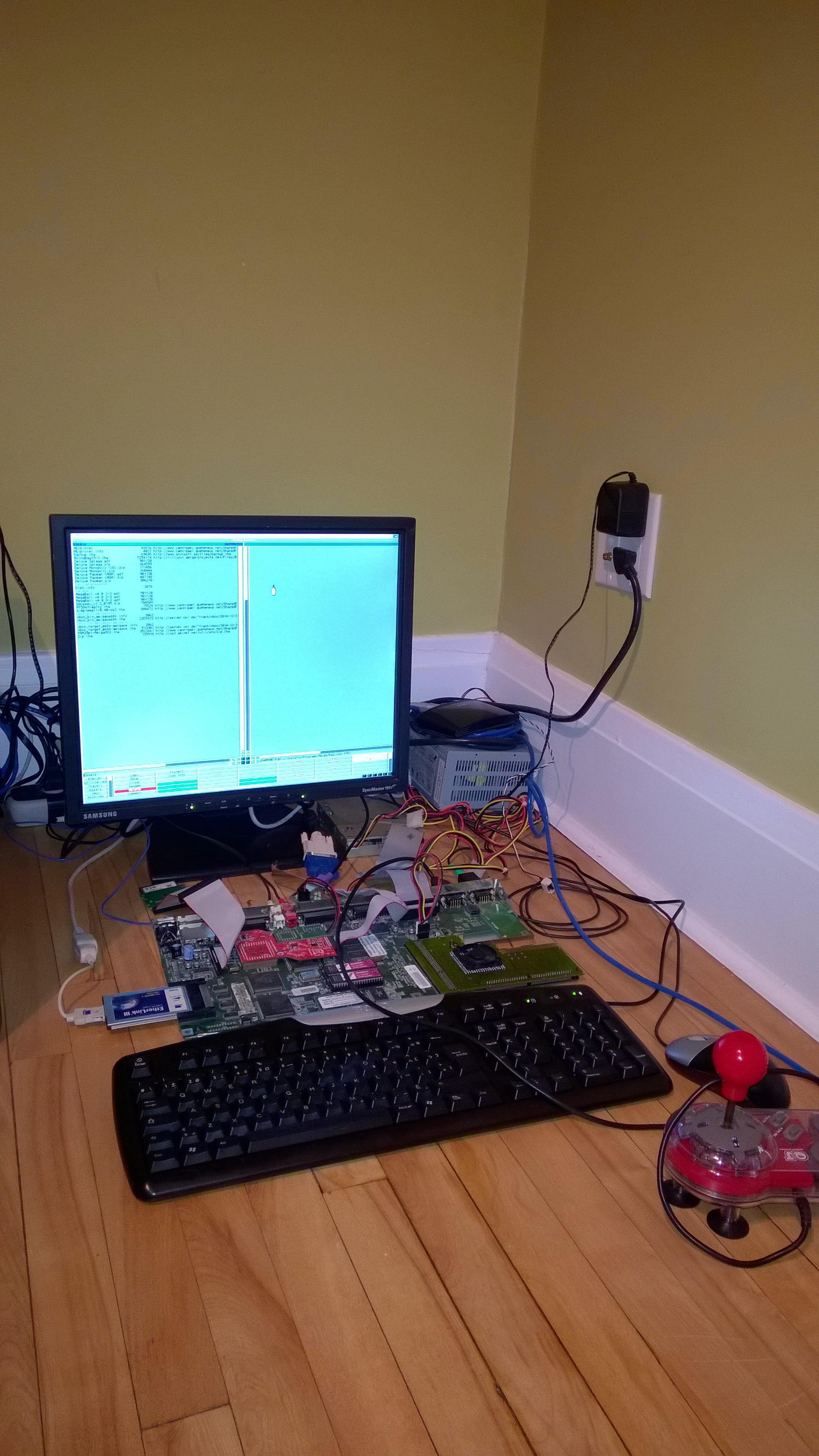 Evo X500 Case
This Amiga is hosted into a Evo X500 case by TheDaddy (see Amiga.org or AmigaWorld.net)

. The Evo X500 is a custom made case designed to host mini ATX boards and featuring a USB Cherry MX Black. The Evo X500 arrives well protected in its box and taking it out is a great pleasure so beautiful it is! Here are some photos taken of different parts:
Bottom
Top
Inside Bottom with Keyboard
Keyboard Details
Inside Bottom
Inside Top
Side
Bottom Underneath
Necessary Parts
The parts necessary to fit an A1200 into an Evo X500 are not so many

:
It is simpler with a A1200 motherboard revision 1D4 or 2B because there are shorter (when removing the extra panel for the 2B) and easier to connect.
The backplate was manufactured by DataPro, which provides an amazing service! Their Web site features a plate designer that is just amazing! The plans for the backplate for my Evo X500 are available on-line for others to use

Finished Fitting
And here are some photos with an Amiga 1200 board and other accessories fitting in the Evo X500 case:
Inside
Inside bottom
Inside top-left corner
Inside top-right corner
More on the inside top-right corner
Back-plate
Completely Finished Fitting
I completed the installation by building a "power" cable dedicated to connecting my Amiga to a regular, external, PC PSU. At first, I used a regular serial cable, to benefit from its DB9.
The problem: My Amiga would not start anymore!

The cause: the serial cable had too thin wires, which could not transmit enough power from the PSU to the Amiga

.
The solution: build my own cable using wires from another, broken PSU (i.e., the cable connecting the Molex connectors to the PSU). These wires are actually quite think and have no problem transmitting the required power

.
Now, the case is closed

, I use a DB9 to bring power and on/off contact to the PC PSU. I wrapped the wired into a meshed net from an old PSU, looks good, eh?
Also, to increase the stability of my Amiga, I relocated and fastened securely three fans, in addition to the fan already present on the Blizzard:
One fan atop of Alice (DMA and ChipR RAM), using t

hermal tape.

One fan atop of Lisa (actually, atop the Indivision AGA , using the ground connector of the Indivision.
One fan on the side of the motherboard to push air through.
Photos of the Amiga Evo X500 Completely Finished

| | | | | | |
| --- | --- | --- | --- | --- | --- |
| | | | | | |
| | | | | | |
Since installing these fans, my Amiga can run hours without any problem, running AmiModRadio and Myzar constantly

.
---
The last three changes:
Tygre - 2020-01-04 01:59:20 pm | Tygre - 2019-12-30 08:54:39 pm | Tygre - 2018-10-27 03:38:49 pm