GibChingu Hardware
Table of Contents
GibChingu is housed in an Evo X500 case, which is probably the nicest looking case ever for an Amiga

.
Original Hardware
The naked truth...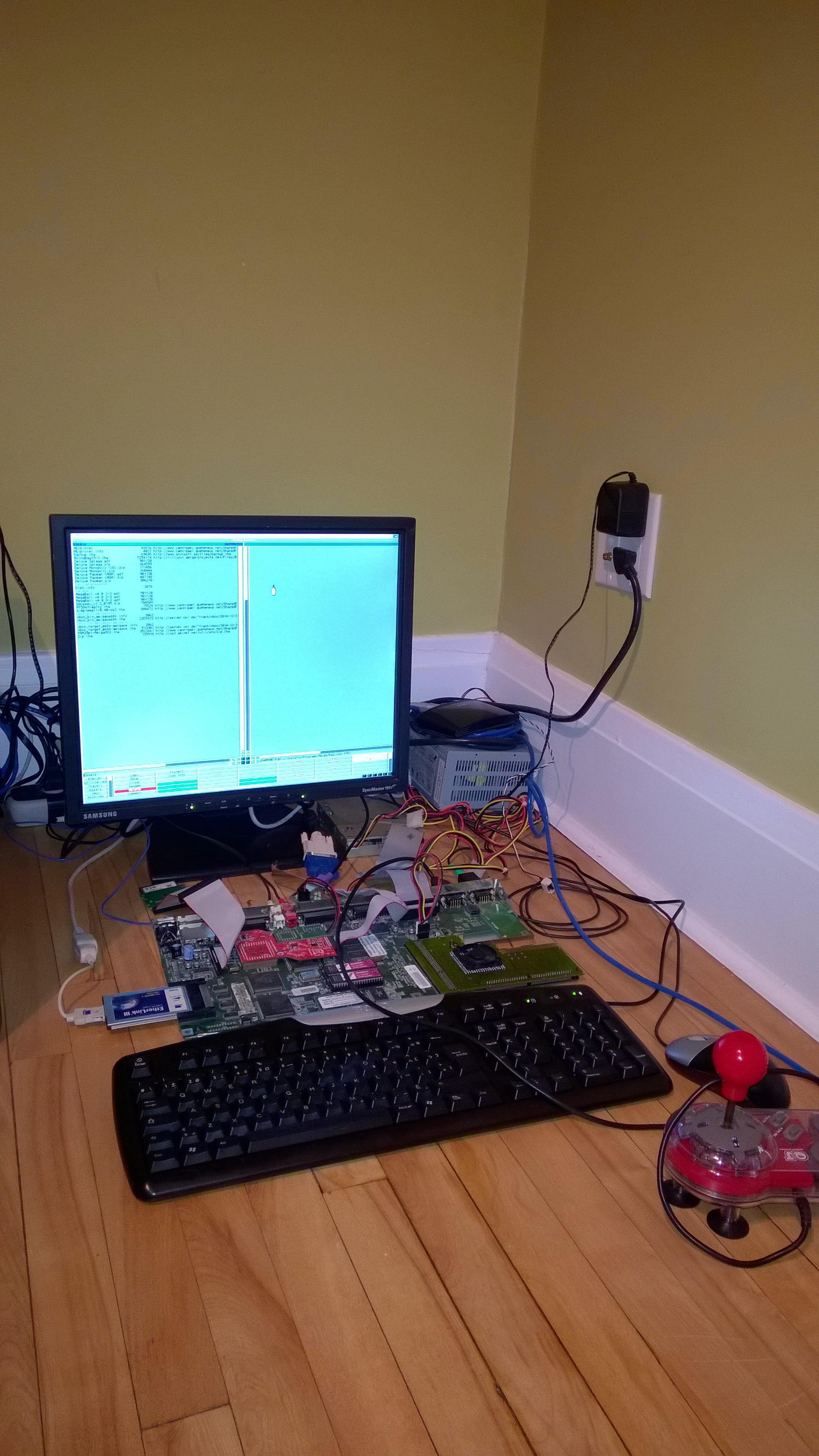 Empty Evo X500 Case
Here are some photos of the case:
Bottom
Top
Inside Bottom with Keyboard
Keyboard Details
Inside Bottom
Inside Top
Side
Bottom Underneath
Finished Fitting
And here are some photos with an Amiga 1200 board and other accessories fitting in the Evo X500 case:
Inside
Inside bottom
Inside top-left corner
Inside top-right corner
More on the inside top-right corner
Back-plate
Completely Finished Fitting
I completed the installation by building a "power" cable dedicated to connecting my Amiga to a regular, external, PC PSU. At first, I used a regular serial cable, to benefit from its DB9.
The problem: My Amiga would not start anymore!

The cause: the seriabl cable had too thin wires, which could not transmit enough power from the PSU to the Amiga

.
The solution: build my own cable using wires from another, broken PSU (i.e., the cable connecting the Molex connectors to the PSU). These wires are actually quite think and have no problem transmitting the required power

.
Now, the case is closed

, I use a DB9 to bring power and on/off contact to the PC PSU. I wrapped the wired into a meshed net from an old PSU, looks good, eh?
Also, to increase the stability of my Amiga, I relocated and fastened securely three fans, in addition to the fan already present on the Blizzard:
One fan atop of Alice (DMA and ChipR RAM), using t

hermal tape.

One fan atop of Lisa (actually, atop the Indivision AGA , using the ground connector of the Indivision.
One fan on the side of the motherboard to push air through.
Photos of the Amiga Evo X500 Completely Finished

| | | | | | |
| --- | --- | --- | --- | --- | --- |
| | | | | | |
| | | | | | |
Since installing these fans, my Amiga can run hours without any problem, running AmiModRadio and Myzar constantly

.
Other Hardware
Other Accessories fitting into the case include:
---
The last three changes:
Tygre - 2018-10-27 03:38:49 pm | Tygre - 2018-10-26 10:03:45 pm | Tygre - 2018-10-26 09:50:48 pm